Amid a new wave of technology and innovation efforts, Pauline Li Pei, a professor in the Department of Applied Biology and Chemical Technology at Hong Kong Polytechnic University (PolyU), founded a startup to explore business opportunities for her patented inventions.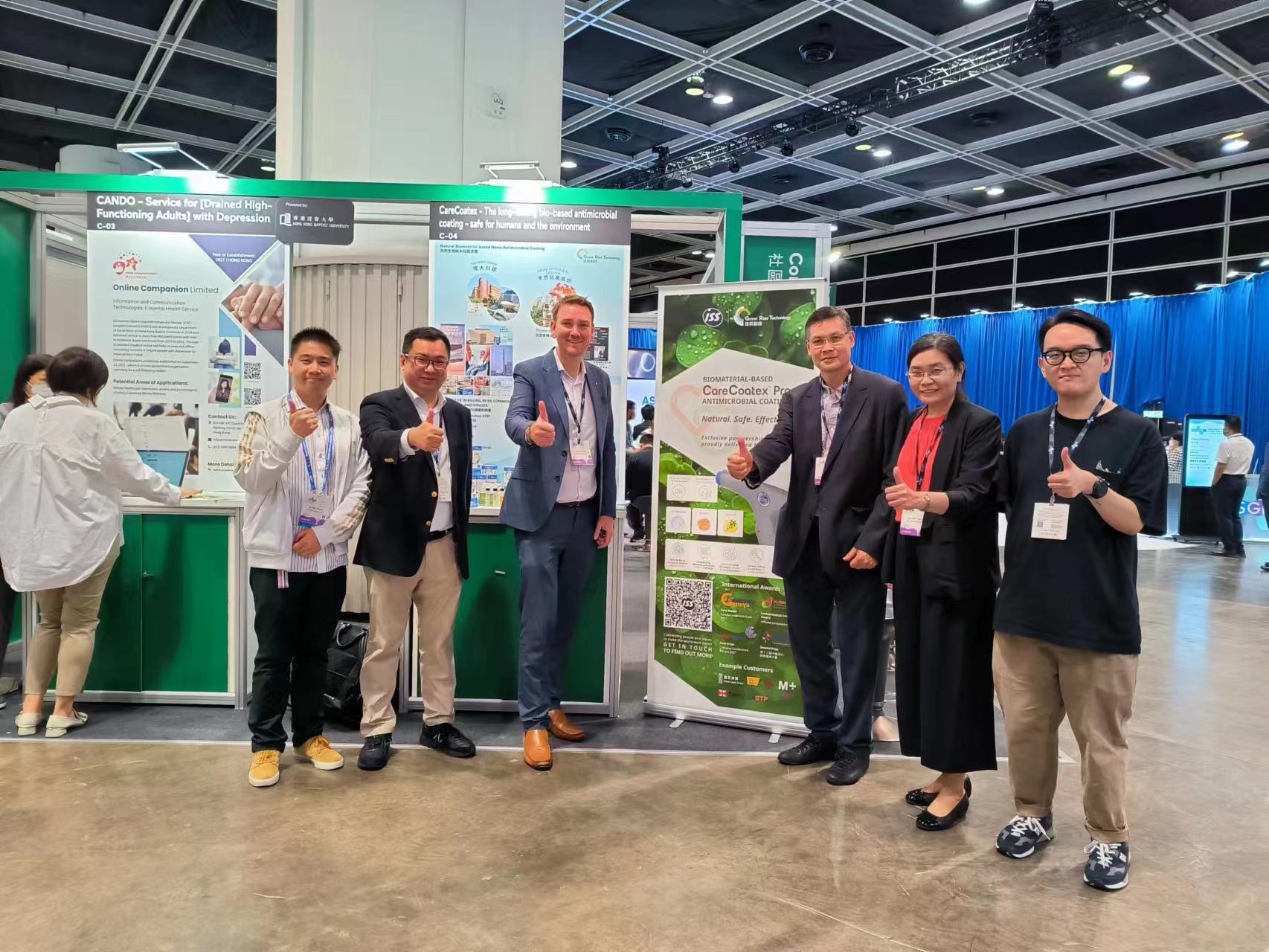 Pauline Li (second right), Tenny Lam (second left) with team members at the BEYOND International Technology Innovation Expo Macau 2023
One of the products is CareCoatexTM antimicrobial coating, a non-toxic, eco-friendly spray that kills 99% of common germs and viruses and lasts for about six months. This product meets the high demand for an environmentally friendly and long-lasting disinfectant coating for high-touch surfaces such as doorknobs, elevator buttons, classrooms and medical equipment in the face of massive concerns about environmental hygiene and the spread of corona and flu viruses.
Recently, Grand Rise Technology Company Limited (GRT), of which Li is a founder, signed an exclusive partnership with ISS Facility Services-Hong Kong, one of the world's leading facility services companies, to bring CareCoatexPro to the market in which ISS operates. Li expressed her excitement about this partnership. "It is really exciting to bring this breakthrough product to the facility services industry by partnering with ISS. Even though we are now moving beyond COVID -19, our increased focus on hygiene and safe workplaces is here to stay," she said. "CareCoatex combines both individual concern for health and safety and our collective need to have a more positive impact on the environment."
GRT is a joint effort of academics and entrepreneurs, with support from PolyU and the Hong Kong government, to explore innovative approaches to scientific innovation and market development.
Li, a well-known professor of chemistry and nanotechnology, has worked at PolyU for three decades. She is passionate about inventing new materials that are both safe and environmentally friendly. "I have managed to combine two incompatible layers in one particle so that the final product is amphiphilic and contains both water- and oil-based components," Li explains. Their unique core-shell particle consists of an oil-based core and a water-based outer shell. As a biocompatible, all-natural disinfectant, the water evaporates after the spray is applied, and the oil-based cores fuse tightly together to form a durable coating with anti-dust properties that contains no toxic or synthetic chemicals or harmful residues.
Unlike conventional core-shell particles, which are made from monomers, Li's proprietary technology can use polymers, such as natural biopolymers, as the starting material. "I believe that using natural antimicrobial biomaterials would be the safest option for humans and the environment, and my core-shell technology makes this possible. I modified food-grade chitosan from crustacean shells and encapsulated thymol from the culinary herb thyme to further enhance the natural antimicrobial properties."
Chitosan forms the outer shell of the particles in CareCoatexTM Spray, creating a positively charged water-based layer over the oil-based film-forming cores. Negatively charged pathogens interact electrostatically with the chitosan-thymol-based particles and are killed. Experiments show that 99% of common bacteria and viruses are killed. "The coating not only kills on contact, but also works over a period of up to six months. In addition to high-touch surfaces such as doorknobs, elevator buttons and medical equipment, it can also be sprayed on textiles and clothing or even used in antiseptic wipes," Li explained.
However, it is a long way to go from Li's ingenious inventions to real and marketable products. Fortunately, Li met Dr. Tenny Lam, a visionary and experienced businessman who is also a PolyU graduate. At the time, Lam happened to inherit his family's chemical company. "I wanted to revive the traditional business with cutting-edge technologies, and that's when I met Prof. Li. I was immediately impressed by the huge untapped potential of her inventions," he said. Instead of licencing her technology or using her consulting services, he decided to form a startup with Li. "I believe that commercialising research results is a long-term process. I am determined to work closely with Prof. Li in the long term and explore various opportunities. The best way to achieve this would be through a partnership."
In 2020, their company GRT successfully secured an investment from an angel investor, with matching funding from the PolyU Tech Launchpad Fund (TLF) Scheme. The company received various international awards, including the Gold Medal at the International Exhibition of Inventions of Geneva 2021, the Environmental Impact Award at the Alibaba Entrepreneurs Fund/ HSBC JUMPSTARTER 2022, and was named to the Forbes Asia 100 to Watch List in 2022.
Following the successful launch of CareCoatexTM, Li is now dedicated to developing and testing coating materials for fruit preservation that are both safe and environmentally friendly. "I believe that our new products will benefit human welfare," Li is convinced.